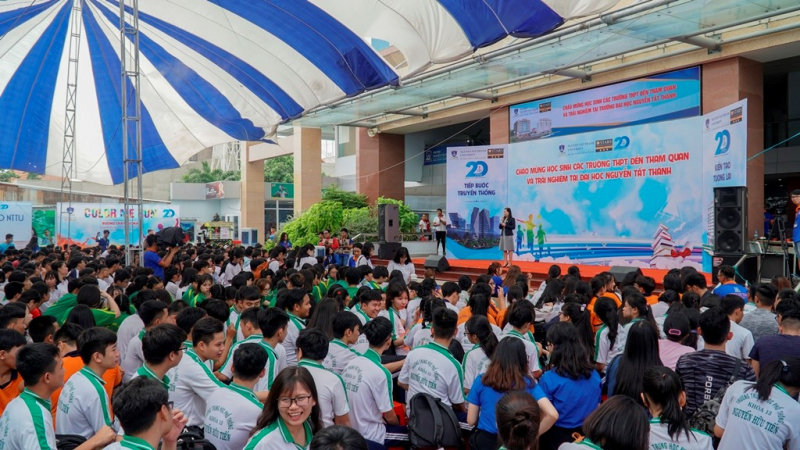 More than 1,300 students visited and experienced at Nguyen Tat Thanh University
For many years, the leadership of Nguyen Tat Thanh University has collaborated with high schools and continuing education centers in the city as well as the provinces to organize many practical career oriented programs such as: Coordinating with Ho Chi Minh City Department of Education & Training organizes the "Chap canh uoc mo" program, organizes career oriented and counseling booths at schools and especially the program to bring students to visit and experience at Nguyen Tat Thanh University. This has become the annual activity of Nguyen Tat Thanh University in the past time, through this visit program, students will meet career counselors, learn more information. and practical experience about the learning environment as well as the profession that they love, reinforcing the belief, moreover is the facility and knowledge for the appropriate career choices in the future. Attending the program, they were also able to visit the enrollment booths of the faculties and departments that Nguyen Tat Thanh University is training, visiting the practice area, the laboratories to better understand the specific industries they will choose in the future and also have access to accurate information on how, enrollment criteria, study conditions at Nguyen Tat Thanh University in 2019.
Bringing students to visit the experience at Nguyen Tat Thanh University is practical to improve the efficiency of vocational guidance, expressing the university's responsibility to the community and society and at the same time helping high school students get more information and practical experience about the university environment as well as their favorite careers. In particular, besides visiting the experience, the students also participate in special music programs and collective games. This is an entertaining activity, helping students to relieve stress to step into the upcoming important exam.
The students were consulted by speakers, answering questions about careers as well as the university's admission methods in 2019.
At the program, the students are guided and learn about the university learning environment through many activities such as: visiting facilities, classrooms, laboratories, self-study areas, gyms, …
High school students were guided to visit the labs and models studied by NTTU students
The Tour and experience program of high school students ends with a spectacular music party with the participation of invited guest singer Thanh Duy and colorful Color me run game.
A lively music party with singer Thanh Duy and ….
… colorful Color me run program
Article: Hồng Quang 
Photos: Duy Anh